BubbleMania: Effervescent Entertainment!
Comedy with a Drip!
An extremely unique program combining high energy entertainment with artistic achievement, BubbleMania is loaded with visual comedy, quick wit, big band swing music and the untamed, often unbelievable qualities and beauty of spherical liquids. Casey's creations grow from intricate and imaginative bubble artforms to "trapping" people inside bubbles!
"An eye-popping, belly-laughing, fun-filled bubble extravaganza!"
- Hamilton Library, South Hamilton, MA

"Screamingly Funny!" - Sunday Bulletin, Norwich, CT

"Casey Carle's creative mastery of the art of bubbling has made him a one-man phenomenon." - American Statesman, Austin, TX

"You made me crack up. I thought I was going to wet my pants." - Ian, age 8, Lebanon, CT
See...

GIANT Floating Spheres up to 4-6 feet in diameter
Incredibly Long Serpents of Soap Film stretching over 25 feet
Bubbles that Bounce
Hands-only bubbling
Funky, gravity defying globs of bubble foam
A Bubble Cube (a cube bubble? Yep!)
The amazing Popcorn Machine
The mesmerizing Crystal Ball
The Bubble Spacecraft (actually spins)
Fog filled bubbles
A bubble "volcano"
and more!

Video!
One breathtaking finale involves encasing an audience member (or two!) inside a GIANT tube of soap film (The Human Bubble!).
Perfect for international audiences, Casey offers non-verbal, highly visual bubble shows set to music. His performances has been enjoyed around the world.
For some events the show includes:
"Fire Bubbles!" -where an ordinary looking soap bubble explodes into a ball of hot flame on hand or even on tongue!

Using a giant collapsible sphere, Casey creates fascinating soap film effects and will blow bubbles from inside the sphere of film.

Fog filled bubbles create yet another level of spectacular special effects (and no tobacco products are used!).

Helium filled bubbles that fly to and stick on the ceiling!

Hey! These guys are not just for popping anymore!

Unbelievable? Watch my video!
My Autograph? Sure! See Casey at any one of his BubbleMania shows for a personalized autograph!
Amazement and Amusement for the Entire Family.
Playing time: Up to 50 minutes
Note: Indoor only. Any mess Is self-contained.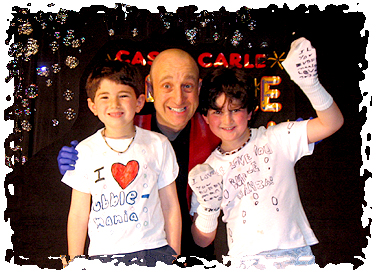 Two of Casey's legion of bubble fans! Best friends Sam (Pleasantville, NY) and Jason (Armonk, NY), showing their love of BubbleMania! in true bubblemaniac fashion! They have traveled long distances to see the show at least 3 times. Thanks boys & Bubble on!!!
"To put it simply: Casey Carle is an extraordinary artist. He is thoroughly professional, perfectly easy to work with, completely in control of his large crowds, hysterically funny in ways that please both adults and youngsters, and engaged at all times in a dynamic interaction with his audience." - Mimsi Coleman, Program Coordinator, Hamden Arts Commission [Full letter]
"I've been viewing programs for 26 years and booking them for 13. I've seen a lot of excellent entertainers whose act is NOT what it once was, but you...you just keep getting better and better! You are an incredible performer and one of the finest anywhere." - Mary Feldhuas, Eastchester, NY Public Library
It was a wonderful performance and it is a pleasure working with you. Todd, [as booking manager has] been super for providing us with timely answers to the million questions that I have had and being so patient with me! - Sagari Bhaskaran, Senior Events Executive, Artaaj Events, Dubai, UAE
"Carle creates ephemeral masterpieces out of thin soap. Behind the act is a wealth of training and a passion for this slippery art form." - The Boston Globe
"We at the Smithsonian Institute have high standards for our programs. [Your's] was a perfect blend of accessible science and downright fun! There is nothing as fascinating as the magic of bubbles... and there is no one that I've seen who explores them in such a crowd pleasing way!" - Roberta Gasbarre, Director - Discovery Theater, The Smithsonian Institute, Washington, D.C. [Full letter]
"Carle covers the world of bubbles with real panache" - Newschannel 4, NYC
| Home | Who is he? | Entertainment | Science Programs | Corporate & Adult Events | Consulting |
| Appearances | FAQs & Formulas | News | Booking Info | Photos | Video | Credits |
| Send Email |