January 2, 2012

Bubbles Perform like Clock Work in Switzerland Circus


The fine folks of Switzerland, known for a fondness for well-crafted chocolates and finely-crafted time pieces, may have discovered a new love for the craft of soap bubble artistry after witnessing the soapy sensation of Casey Carle's pivotal closing act to the famous Circus Conelli - or at least one might assume this based on the enthusiastic response to his one-of-kind performance.

Roby Gasser, owner and director of this decades-old circus, spotted Carle's talents at a St. Petersburg, Russia circus event and knew he would be the perfect finale to his popular single-ring show. "Casey showed me something new - which is saying a lot because I've seen a lot,"' Gasser said, "The response in Russia was huge and it was clear to me that Casey had something to offer that my audiences in Zurich had not experienced before. He was an absolute highlight of the show and easy to work with. A real pro"

During the circus' six-week holiday run Carle presented his 7 minute act over 80 times, wowing the crowds with fanciful manipulations of fog-filled bubbles, bubbles in bubbles, trampoline bubbles, bubbles that dance to the music and blowing bubbles from inside a giant sphere of soap film, all the while sporting a sharp, new costume design, adding even more color and character to his presentation.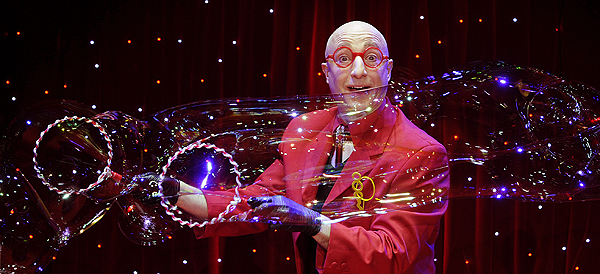 To accommodate Conelli's annual holiday theme, Carle performed to jazzy holiday music, choreographing his manipulations with the spontaneity of the 15 piece live band. "For over 20 years I've performed to Big Band Jazz", Carle said, "It was fun to make a shift to snappy holiday music, something Roby requested but also fit well with my high energy performance style."
This year's show drew over 40 performers from across Europe and Asia and one other fellow act from America.
"It was an honor and pleasure to be a part of this amazing circus and to share a ring with such talented people from around the globe"' Carle said, adding, "The Swiss audience was absolutely terrific, clapping in unison to show their appreciation. I hope I shared something that they will remember for a long time."
| Home | Who is he? | Entertainment | Science Programs | Corporate & Adult Events | Consulting |
| Appearances | FAQs & Formulas | News | Booking Info | Photos | Video | Credits |
| Send Email |