BubbleMania's Virtual Bubble Workshop!
Where Soapy Science Meets Amazing Art

Geared to Ages 7 and Up (With direct supervision younger children can also succeed!)

We applaud the ingenuity of teachers, educators, librarians, theater producers and child care leaders who continue to devise new ways to inspire young minds in the distance-learning environment. Or who simply need something fun to occupy the kids!

To help in this endeavor Casey Carle is brings the excitement of soap bubbles to the home-front:

Live via Zoom!

A Hands-On Science Activity to Engage and Amaze!
Your Budding Bubble-ologists will learn:

How to mix a strong, long lasting bubble solution
Create their own bubble making wands
Design and build jaw dropping bubble art and games
Do it all without making a mess! (No way. Way!)




YEAR-ROUND, DAY OR NIGHT!
This is an INDOOR activity!
(Breezes make bubble art impossible)

Your Bubble Builders will be creating:

Bubble Snowman
Bubble Ice Cream Cone
Bubble Snake
Bubbles Inside Bubbles
Square Bubble
Flower Bubble
Bubble Spaceship...and more!
Each participant will need a simple set-up of common items found around the house:

Store-bought Bubble Liquid or the Home-Made formula shown
Plus a Pie Dish (or similar)
Bendable Straw
Bubble Wand (pre-made or created from fuzzy wire)
Absorbent Towel

HOME-MADE BUBBLE FORMULA

10 ounces distilled water or "soft" tap water (avoid "hard" water)

1 oz dishwashing liquid (AJAX works well) OR 2 oz Ultra Dawn or Ultra Joy

for longer lasting bubbles:
Add 2 ounces of store bought bubble-mix
1/4 tsp glycerine (helps in low humidity)

See also:
Advanced Bubble Solutions and Secrets
The bubble workshop does not include blowing bubbles haphazardly into the air. Anyone can do that! This a class that teaches and rewards controlled techniques that keep bubbles in or above the dish at all times.
Let us help you ignite curiosity and fuel a passion for discovery, experimentation, imagination and creativity. Together we can inspire the scientists and artists of the future...one soap bubble at a time!

Casey often breaks up the practice sessions with demonstrations of trapped fog, DIY foam makers and spontaneous moments of discovery.
Virtual Bubble Workshops via Zoom
Be A Bubble-Maniac!
Brilliant Bubbler Casey Carle Shares Secrets to Amazing Art
(Zoom Security Protocols Set at Safest Levels)

Gather a bunch of bubble enthusiasts and enjoy a live liquid lesson with internationally recognized, award-winning bubble master Casey Carle! He'll demonstrate and explain the secrets for creating fascinating soap bubble designs, relying on elements of science, creativity and wonderment.

Client/Co-Host uses the Zoom code we supply to organize and schedule the participants.

ZOOM WORKSHOP BONUSES:

Customizable to Match the Ages/Abilities of the Group
Age-Appropriate Improvisational Comedy
Answers to Real-Time Questions
Available Day or Evening, 7 Days a Week.

Length: 45-60 minutes
Number of participants: Up to 25 at one time. (Individual devices or classroom setting via a Smart Board.)
Recommended for ages 7 and up. (Younger kids with direct supervision)




COST:
Fees are based on the number of devices and/or participants engaged, with costs that respect the budgets of libraries, schools and community groups.
Bulk discounts for multiple workshops over one or more days.
Please ask about fees for an entire school grade and similar group-based educational venues.

Your interactive bubble workshop was a wonderful kick-off program and came at the perfect time during this pandemic! - Portland, CT Public Library, June 2020
"I appreciate your time, enthusiasm and hard work. You had kids and parents alike engaged with bubbles." - Waterford, CT Public Library October 2020
To schedule a time and receive the Zoom Codes to share with your participants please contact Todd Little, Booking Manager, at bubblemaniabooking@gmail.com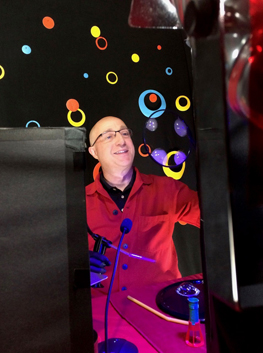 LET'S HAVE FUN !
| Home | Who is he? | Entertainment | Science Programs | Corporate & Adult Events | Consulting |
| Appearances | FAQs & Formulas | News | Booking Info | Photos | Video | Credits |
| Send Email |