January 2, 2013

Brazilians Go Nuts Over Bubbles


Bringing his talents to South American for the first time, Casey Carle's masterful manipulation of spherical liquids was a featured act on Domingão do Faustão (Big Fausto's Great Sunday) by far Brazil's most-viewed program and hosted the country's most popular and influential Television personalities, Faustão. Viewed each week by tens of millions, Domingão do Faustão has been broadcasting live entertainment since 1989. CLICK FOR VIDEO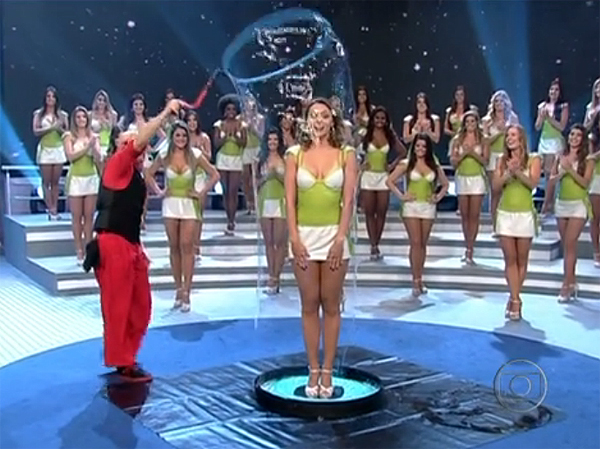 The energetic studio audience reacted with loud bursts of applause and "oohs and awes" as Mr. Carle demonstrated skills rarely if ever seen in their country.
His act was presented in front of a bevy of beautiful Brazilian dancers whose engaged expressions created a cheerfully animated background to stunning bubble artistry. The complimentary aspects of beautiful bubbles plus lovely ladies made for a unique visual treat.
Highlights of the act included fog filled bubble sculptures, a cube bubble released to become spherical and a fascinating new trick of trapping a "fluttering butterfly" inside a large soap bubble.
At the (unexpected!) request of the Host, Mr. Carle fielded questions from the adult audience; queries that made it clear his artistry brings out the curious in all ages and across all boundaries.
Unfamiliar with the local language of Portuguese, an interpreter kept him informed of the often spontaneous, clearly unrehearsed requests and humorous asides of the enthusiastic Host.
"Though taken by surprise, I was more than willing to play along with Faustao", Carle said, "20+ years of improvisational experience helped me do this smoothly (I hope!)... the producers were certainly happy with the results!"
His presentation in Brazil brings Mr. Carle's international credits to twelve countries and four continents with multiple engagements in Europe, Asia and throughout North America.
[Mr. Carle's appearance was made possible by Chuck Harris, Agent/Manager of The Visual Arts Group, Los Angeles, CA. 323.933.9161 ]
Go here to view portions of the act as seen on Domingão do Faustão
| Home | Who is he? | Entertainment | Science Programs | Corporate & Adult Events | Consulting |
| Appearances | FAQs & Formulas | News | Booking Info | Photos | Video | Credits |
| Send Email |